Join the MNB Community.
Get a Wake Up Call each morning...
Email:
Explore the MNB Archives
Friday, March 16, 2018
by Kevin Coupe
Fascinating story from Reuters, which got a look at some internal Amazon documents that detail the impact that its Prime streaming service has on its overall business.

According to the documents, programming produced by and exclusively for Amazon "account for as much as a quarter of what analysts estimate to be total Prime sign-ups from late 2014 to early 2017, the period covered by the documents … Amazon's US audience for all video programming on Prime, including films and TV shows it licenses from other companies, was about 26 million customers."

As we all know, this is part of the complex strategic game that Amazon is playing. It is well-known that Amazon Prime customers spend almost twice as much on the site than non-Prime customers … and so it is worth the hundreds of millions of dollars that Amazon spends on proprietary content - just another version of private label - to get people to sign up for Prime. At the same time, Amazon also is engaged in a wide variety of replenishment tactics that build on its strategic goal of making it the first, best choice for pretty much everything … which also means keeping people out of traditional stores.

That's tough to compete with, but retailers need to have their Eyes Open about it. It means, I think, that they have to get beyond the erroneous concern that physical stores will die. They won't. There always will be a need for traditional stores. However, there is going to be less and less room for mediocre, non-compelling and undifferentiated stores.

Like Amazon, retailers have to find and embrace untraditional weapons. They have no choice.

CNBC reports that Tri Huynh, a former director of business development at Walmart, has sued the company, claiming that the company "issued misleading e-commerce results" in its efforts to keep up - or create the perception that it was keeping up - with Amazon.

According to the story, "Huynh claims the retailer mislabeled items on its website so that third-party vendors were paid lower commissions, sent customers the wrong orders, and forced merchants to deal with greater returns. Walmart also overlooked basic internal controls, according to his suit, which was reviewed by CNBC."

After Walmart acquired Jet, the lawsuit says, "A high percentage of the product sale lists between Jet.com and Walmart.com overlapped – that is, they contained redundant SKUs … Yet Wal-Mart was reporting the redundant SKU numbers as if they were separate, non-redundant, thereby misrepresenting and artificially and falsely inflating SKU growth numbers."

Huynh characterizes Walmart's behavior as an "overly aggressive push to show meteoric growth in its e-commerce business by any means possible — even, illegitimate ones."

In a statement to CNBC, Walmart says that "this litigation is based on allegations by a disgruntled former associate, who was let go as part of an overall restructuring. We take allegations like this seriously and looked into them when they were brought to our attention. The investigation found nothing to suggest that the company acted improperly." Walmart says it will "vigorously defend" itself in the suit.

Huynh, who also worked for Amazon earlier in his career, says that "he was terminated by the company under false pretenses in 2017."

KC's View: First of all, what other kind of pretenses are there?

I have no idea how this suit will turn out, but if the accusations are credible, I have to wonder if it creates bigger legal problems for Walmart; if it misstated financials, that could qualify as misleading investors. Not cool. Which is why a vigorous defense is Walmart's only option.

I would normally think that a company the size of Walmart would be unlikely to do such a thing … except that this is pretty much the definition of the financial scandal in which Tesco found itself not so long ago.

TechCrunch reports that Blue Apron, which was an early player in the meal kit business only to suffer declining subscription numbers and disappointing earnings while facing off against increased competition, has identified a new distribution model for its products: the supermarket.

Blue Apron says the new in-store meal kit offering will make its brand "more accessible to homes across the country," and "will provide the unique and consistent product experience that our customers have come to know and expect from us, including high-quality ingredients and chef-driven recipes."

KC's View: This makes a lot of sense, though it may be a little late. Competitors such as Amazon and Walmart already are doing their own meal kits, and Blue Apron was positioning itself as an alternative to traditional stores.

I do think this is a smart (maybe inevitable) move, but it will require Blue Apron getting a lot of traction, quickly. This can't be a long, slow rollout. The market is moving fast, there is a lot of competition, and playing catch-up is a problematic position.

Southeastern Grocers said yesterday that it will close 94 underperforming stores operating under its various banners - Winn-DixieBi-Lo, Harveys and Fresco - in seven states, leaving it with 582 stores.

Anthony Hucker, president and CEO of the company, described the move as "a critical milestone in its transformation and we have made choices for our future and long-term growth potential … This course of action enables us to continue writing the story for our company and our iconic, heritage banners in the Southeast."

Hucker said the company's intention over the next three years is to create "stunning, remodeled stores in a significant portion of our footprint."

USA Today reports that Southeastern Grocers "intends to begin a court-supervised  restructuring process by the end of March and anticipates the process taking 90 days."

KC's View: It may be a critical milestone, but nobody should delude themselves into thinking that this is one-and-done. Despite the closures, I think that Southeastern's various banners still face tough and challenging times. There is plenty of competition in the markets where it operates, plus expanded online competition from the likes of Amazon and, more and more, Walmart/Jet.

If these stores really are going to "stun" consumers, it has to be with products and services that differentiate these stores, not with just cosmetic changes that really don't add up to much. This is going to take time and money, and the question is whether Southeastern has enough of both to make a go of this.

Bloomberg has a story about how "the collapse of Toys R Us is yet another blow for landlords, who now will have gaping holes of suburban retail space up for grabs. And few tenants would want them."

The problems are many: There is already too much vacant retail space available. Many of the retailers that might ordinarily look at these opportunities have embarked on different paths, such as smaller, urban stores. Other retailers that might be possibilities also are closing stores. Splitting the stores up into smaller units is expensive and won't necessarily be attractive to potential tenants. There already is too much retail space in the US. And, in cases where the stores are connected to malls, many of those malls already are suffering from store closures that have left vacancies.

KC's View: I wonder how many of these stores could be turned into distribution facilities for various e-commerce players. I suspect that a sizable percentage of the stores won't end up being stores … or at least not the kind that consumers wander into.

The Minneapolis/St. Paul Business Journal reports that Supervalu "plans to sell off its Farm Fresh Food & Pharmacy stores as the company continues to put more emphasis on its wholesale and distribution business."

The company says that "it already has deals to sell 21 of 38 Farm Fresh locations to three other retailers — Harris Teeter, The Kroger Co. and Food Lion — for a total of about $43 million. It's in discussions to unload the remaining stores, either to existing grocery store chains or to Farm Fresh employees."

The story goes on to note that Supervalu will be left with "a relative handful of retail stores, including Cub Foods in Minnesota, Shop 'N Save in St. Louis and Shoppers in the mid-Atlantic region." Farm Fresh "was acquired by Supervalu as part of the company's $883 million acquisition of Richfood Holdings in 1999. Back then, Supervalu was still in growth mode after an even bigger deal to buy grocery chain Albertsons in 2006."

In a prepared statement, Supervalu president/CEO Mark Gross says, "This decision was not taken lightly given the impact on our employees and the communities we serve, but we strongly believe this decision is in the best long-term financial and strategic interest of our business."

KC's View: No real surprise here. The writing has appeared to be on the wall for a long time about Supervalu getting out of the retail business and focusing on the stronger wholesale part of the business.

Corporate Drumbeat
THE SKY ISN'T FALLING. NOT FOR THOSE WITH THE RIGHT PRIORITIES.

E-commerce. Mergers & Acquisitions. New Competitors. Low Unemployment. Cultural Uncertainties.

They all add up to High Anxiety. And it is only going to get worse.

But that doesn't mean the sky is falling. There's no reason for mass hysteria.

It does mean that success will come to companies and leaders with the right priorities - who understand the importance of innovation, relevance and disruption, and who understand that the right people make all the difference between success and failure.

At Samuel J., our value never has been greater, because we understand the connection between great talent and innovative businesses.

And yet, our essential value proposition hasn't changed over the years. We are uniquely positioned - because of our superb network and key business insights - to put together people and organizations in a way that builds expertise, cultivates leadership, and turns business challenges into business opportunities.

At Samuel J, we know how to do it in a timely fashion and exceeds our clients' high expectations. And we have the track record to prove it.

Click here to find out more. Because at Samuel J. Associates, we know how to find the upside even in the most competitive, challenging situations.
GeoMarketing reports that Starbucks is building a 20,000 facility in Seattle that "will house its TRYER Innovation Center," described as "a combination of a makers space and a Starbucks store where everybody who works at Starbucks can come down and test their idea."

At the SxSW conference in Austin, Texas, Brent Cashell, TRYER's director, said that those ideas can range from "a cool idea for a new drink or a payment process, and then collaborate with others to figure out how that's going to work in the real world."

"Innovation is one of those things where it's really easy to use the name and the buzzword and it's really hard to define what it is and what is the purpose of it," Cashell said. "Let's think about it this way: the purpose of a shovel is not to have a metal spade and a nice long handle and to be strong and look great in a shed. The purpose of a shovel is to dig a hole. So the purpose of running innovation at Starbucks is not so that we simply have something cool or launch something to get attention for its own sake. The ultimate goal is to have something that matches what your consumer actually needs, wants, and has an emotional connection to."

KC's View: That's a sentiment worth repeating - that innovation has to be connected to the customer experience in both tangible and intangible ways.

Business Insider reports that "Walmart has filed a patent for autonomous robotic bees, technically called pollination drones, that could potentially pollinate crops just like real bees. The drones would carry pollen from one plant to another, using sensors and cameras to detect the locations of the crops."

According to the story, "the robot bee patent appears along five other patents for farming drones, including one that would identify pests and another that would monitor crop health … While Walmart's exact goal for these patents is unclear, they may signal that the company hopes to venture into agriculture and gain more control over its food supply chain."

Some necessary context from the Business Insider story:

"Walmart is not the first organization to create a robot bee. In recent years, scientists have searched for solutions to the decline of honeybees, which pollinate nearly one-third of the food we eat and are dying at unprecedented rates largely because of a phenomenon called colony collapse disorder. (In 2017, however, these deaths declined from the year prior.) … The researchers believe these RoboBees could soon artificially pollinate fields of crops — a development that would help offset the yearly bee losses over the past two decades."

Regarding the debate about whether Whole Foods should carry traditional soft drinks, MNB reader Robert Wheatley wrote:

Amazon is known for its relentless devotion to the consumer and its tireless efforts to drive convenience and lower prices in the "endless shelf" environment of e-commerce. It is spectacularly successful in this way and if anything religious in following this credo through it's operations and strategic decisions.

But I would argue that Amazon is less aware and respectful of what brand equity means and its role in the relationship people have with the products and retailers they care about. Whole Foods retail brand equity is linked to standards of quality and integrity around food and its origin story. If anything the value proposition Amazon acquired in buying Whole Foods was a legacy reputation for having made organic accessible to a wider audience, and for creating a unique proposition in the food retail marketplace as a home to premium and super premium food solutions.

As a brand marketer I am worried that violating the rules of the relationship core consumers have with Whole Foods is a slippery slope to sameness in food retail. If Whole Foods becomes marginalized as a food store like all other food stores by lowering its standards with sugary soft drinks and thus uniqueness, what are you doing to the Golden Goose you've acquired? Lowering prices to make Whole Foods less of a Whole Paycheck proposition I think is smart. Integrating Whole Foods into its online platform and delivery capabilities just makes sense. But violating the tenets of equity, mission and beliefs that sit at the center of Whole Foods is unwise. I would suggest instead they protect that asset and work to leverage the advantage Whole Foods already owns with a consumer who wants higher quality, fresh food experiences.

MNB reader Gary Loehr wrote:

I would say that the pressure should be on Coco Cola to come up with beverage options that meet Whole Foods standards.  That is something they should be doing anyway.



In response to our story about the companies rated as having the best - and worst - corporate reputations, MNB reader Dave Rasmussen wrote:

I was surprised that Apple didn't drop further. My wife and I were part of the battery problem with our I phones. The closest Apple store is 3 hours away and it took us 3 trips and $30 each to get the batteries replaced. We still have our phones but may not when it's time to get new phones.



MNB reader Glenn Cantor had a thought about Walmart's announced e-grocery expansion:

The interesting note about Walmart offering same-day delivery in New York City is that Walmart does not have physical stores in any of the 5 boroughs of New York City.  This is due to the costs of space and labor.  They have now bypassed both challenges, but I wonder how the labor unions will react to non-union labor making Walmart deliveries in NYC.

I have no doubt that some folks in NYC will want to barricade the bridges and not allow Walmart's trucks through. Or have Walmart-only tolls.



Lots of email about the Toys R Us collapse.

One MNB reader wrote:

Yes, people can go walk around Toys R Us and learn about what mistakes not to make.

But walking around the store they won't be able to see the biggest lesson to learn: that if you encumber a business with billions of debt through a leveraged buyout (or by separating the real estate from operations), plus impose high ongoing management fees, you lack the financial flexibility to be responsive to changing conditions.

Especially if conditions change significantly.  It's not enough to throw off money from operations to pay for operations, expansion, store refreshment, etc.  You also have to pay down the debt.

With small declines in sales, everything goes haywire.

Setting up a company to succeed only if all conditions of the market are wildly successful is setting yourself up for failure.

I mention real estate because it was an element in the closure of Mervyns.  But also the demerger of Manor Care.  They separated the real estate into a separate REIT, paying rent.  Soon they didn't have enough money to pay separate higher rent and run their business.  

From MNB reader Gary Henderson:

Sad commentary regarding Toys R Us and their simply inability to react to an ever-changing marketplace. Kids everywhere used to ask parents "Can we go to the toy store?" and it was automatically known to be a trip to Toys R Us. There was a special thrill in doing that.
 
One has to ask, how far behind can Barnes & Noble be?  "Can we go to the book store?" for many means a trip to B&N.  And I'm not sure how quickly they are evolving their business model, competing against Amazon and online and going to be able to stay afloat.  Same store sales were down 5.3% over the holiday quarter and they lost an additional $63 million from operating. Clearly those kind of numbers signal they are engulfed in the downward-spiral tornado.

From MNB reader Barry Sullivan:

This is what happens when the 1% do whatever they please. Toys R Us was brought down by a leveraged buyout by said 1% and then saddled with debt to finance the buyout. This action by the 1% happens over and over for what reason? It only makes the 1% morbidly rich and screws over the 99% who do not have the means to repair the damage done.

And from another reader:

I had my second child about a year ago and I have a lot of Toys R Us and Babies R Us gift cards. In my panic about whether they would work or not anymore I went online last night to try and use them. The user experience was so bad that I left the site frustrated without buying anything...and I have free money to spend. This is the cautionary tale. If your website and store make shopping feel like work--you are going to lose customers.

And another:

The management of Toys R Us knew exactly what they needed to do to remain competitive. You won't find the cause of TRU's collapse in the aisles; you need to look at their balance sheet.

And, from MNB reader Tom Jackson:

I agree with you about walking around a Toys R Us store looking for their weak spots - but, if I were a retailer, I would go into that store looking at their employees and providing a business card to those who caught my attention. This is a recruiting opportunity.



Finally … I really don't want to get into the whole dog-in-the-overhead story again. I've done enough damage to my image on that score.

But I did want to share this one email from MNB reader Tom Redwine:

I'd remembered your mentioning that you had dogs (though we've never met, somehow I see you as a dog person more than a cat person), and I looked for an appropriate response to let you know that I'm still with ya, even when you stumble. (Hell, we all stumble.) So I came up with this:

Canem ignoscit. Egredere et fac bonum.

Amen.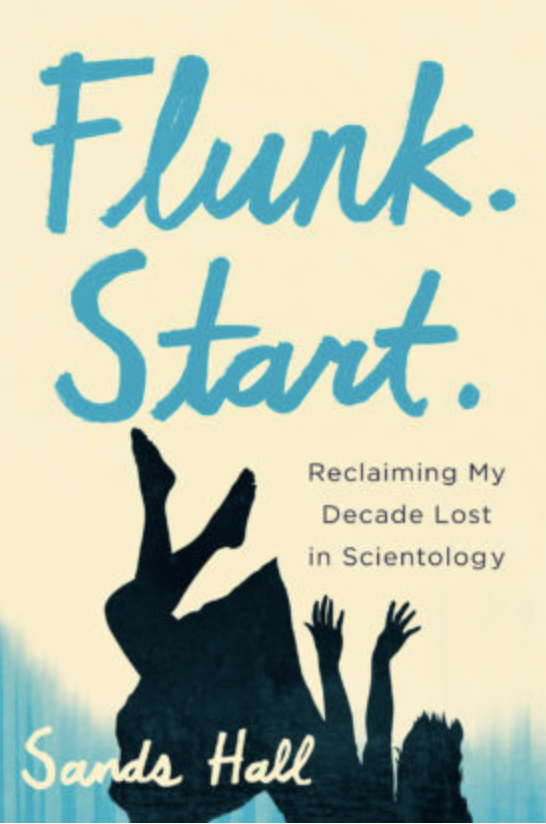 I've been thinking a lot about belief and unbelief lately. Oddly enough, I recall that being the name of a class that I took while attending Loyola Marymount University in the mid-seventies. It struck me then, and now, that for a Catholic university to concede that religious unbelief is a legitimate (and these days, growing) life choice was both progressive and liberated. And liberating.

This all came to mind recently when I read a wonderful memoir entitled "Flunk. Start.: Reclaiming My Decade Lost in Scientology," by Sands Hall, a novelist, actress, musician and university writing professor.

Rather than being an anti-Scientology screed, Hall's memoir is both more expansive and granular in its approach. When she joined Scientology while living in Los Angeles during the eighties, it wasn't in a vacuum and it wasn't just an impulse. Hall was raised in a literary family with high expectations; her father was Oakley Hall, probably best-known for writing the novel upon which the movie Downhill Racer was based. While she raised in a highly creative environment, and her older brother was a playwright who also was something of a mad genius, Hall also had a spiritual side that seemed to differentiate her from her family. She believed, or wanted to believe, in a kind of spirituality that many religions say they can nurture, and yet that seemed at odds with the kind of muscular, grounded skepticism about such things practiced by her parents.

It was her yearning for something more, some spiritual connection, that lured her into Scientology; she knew of its reputation as a cult, she went into its highly structured and restrictive environment with eyes wide open, and yet she was drawn to it in a way that the memoir explains in plain yet evocative language.

As a reader, one can see the signs more clearly than Hall could at the time. I kept wanting to knock her out of the way of what struck me as the speeding train of Scientology, which, if it had its way, would remake everything that she was. And not just remake her. Scientology would've obliterated everything she way and taken everything she had.There are times that "Flunk. Start." reads like a thriller, full of shadows and threats and characters who may be duplicitous or honest and hard to take at face value.

In the end, though, what marks "Flunk. Start" as an unusual approach to the subject is the consistent and deep compassion of the writing. Hall is hardest on herself, writing about personal tragedies and misjudgments, which is probably what any clear-eyed memoirist should be.

"Flunk. Start" transcends the typical "how I got out of a cult" story because it has something much bigger in mind. It is about the yearning for belief and connection, looking in its own way at why religions of all kinds have value as ethical and behavioral touchstones. It explores why cults - which are just like religions in some ways, except with no room for thought or exploration, offering total certainty and absolutes - are so magnetic. Hall sees some value and values in all of them, even the ones that have become corrupted over time and through deliberate exploitation. The book explores what makes some people believe and some not, and what makes some people yearn for spiritual answers to questions they may not even know how to formulate.

Finally, a bit of full disclosure. I know Sands Hall. I've known her since 1977, and I was around the periphery during some of the events that occur early in the memoir, though I wasn't really involved in them, and I'm not in the book. But we really weren't in touch much during her Scientology years and afterwards, so I had no idea of what was going on in her life.

I don't think my knowing the story's author made "Flunk. Start." more compelling a read than it would've been if I did not know her. There were moments of recognition, and times when I thought I should've been a better, more available friend. But for anyone who reads it, I believe that as a memoir and a thoughtful exploration of faith and belief, "Flunk. Start" has enormous objective power.

I heartily recommend it.



That's it for this week. Have a great weekend, and I'll see you Monday.

Sláinte!!
Corporate Drumbeat
Marty Ramos, Microsoft's Chief Technology Officer for Retail, Consumer Products & Services, discusses with Tom Furphy & Kevin Coupe the "fire hose" of technology options available to retailers and how to prioritize among them. Ramos says it is all about BILL - basket size, inventory, labor and loss prevention - and making sure that technology addresses one or more of these issues. And, he talks about the retailers making the biggest, most innovative strides. Plus, Tom and Kevin talk about the challenges of the "last mile."

This podcast can be played below, or can be accessed and subscribed to on both iTunes and GooglePlay.

This Innovation Conversation Podcast is sponsored by ReposiTrak, and brought to you by GMDC.
Industry Drumbeat
Just a reminder ... Jackson Jeyanayagam, CMO of Boxed, joins Tom Furphy and Kevin Coupe to talk about his company's competitive posture, unique value proposition, and focus on family-friendly values, as well as his experience as head of digital marketing at Chipotle during its food safety crisis. Plus, Tom and Kevin discuss Amazon's integration of Whole Foods, and much more, in this inaugural edition of The Innovation Conversation Podcast.

This podcast can be played below, or can be accessed and subscribed to on both iTunes and GooglePlay.


This Innovation Conversation Podcast is sponsored by ReposiTrak, and brought to you by GMDC.
Corporate Drumbeat
"Content Guy" Kevin Coupe sits down with Barry Clogan (pictured at left) - a veteran of the e-commerce wars with his share of battle scars - the 2018 National Retail Federation Big Show, to talk about how the fast evolving e-commerce segment is creating a growing chasm between retailers that "get it" and those who don't. The focus is on customer acquisition, and the importance of focusing on total customer value as opposed to sales and transactions, and the conclusion is that retailers are running out of time to make the critical moves to keep them relevant and successful.

Content Guy's Note: In the interest of full disclosure, I should note here that Barry currently is president of Retail Solutions at MyWebGrocer, but also spent five years at Tesco, where he led its online grocery rollout across eight countries. I thought his perspective would be valuable, and worth sharing with the MNB community. It was only later that MyWebGrocer stepped in and asked to sponsor it … which didn't particularly matter in terms of content, because at no point in the interview did we talk about MyWebGrocer. This is not a commercial, or even an infomercial … but I wanted to be completely transparent about it. So, enjoy…

PWS 52